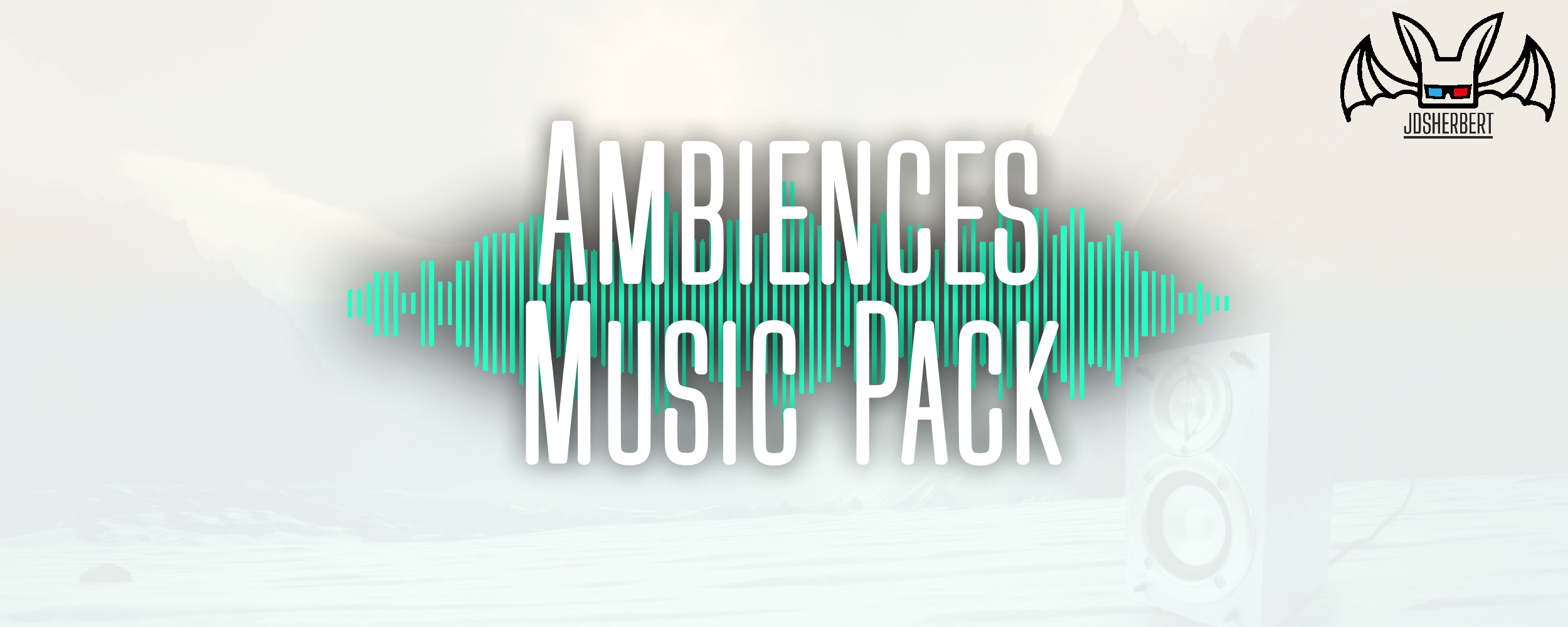 Ambiences Music Pack
A downloadable Music Pack

The Ambiences Music Pack is a versatile, high quality sound pack that has a selection of environmental foley recordings coupled with musical loops and accompaniments to fit your project.

I put a lot of effort into creating this pack, and I hope it will benefit your films, games, animations, or any other audio-visual projects.
Let me know what you're up to by tweeting me @JDSherbert_


There are 10 ROYALTY FREE songs in this pack:
🐀 Bloodrat Sewers (Dark ambience of a sewer in Oxford with rats.)
🌌 Cosmic Star (Ethereal, procedural piece with strings and bass tones)
🌙 Dark Dark Woods (Foreboding dark strings and some owl foley!)
🌵 Desert Sirocco (Ash Shalfa desert winds and a string ostinato)
🗻 Frost Mountain Aura (Procedural, haunting piece, wind from cliffsides)
🚏 Junction Jazz (Busy traffic from Birmingham with fast jazz notes.)
🎋 Swamp of Digeridoos (Needed an excuse to use a digeridoo. Leave me alone!)
🍻 The Blackpenny Pub (Ambience from my local with a plucked ostinato.)
🐅 Tiger Temple Trial (Energetic and upbeat jungle ambience with percs)
🌊 Underwater City (Underwater in a lake, lots of percs and reverb.)


Audio File Types:
Sample rate: 44100Hz
Bit depth: 16-bit
Loopable: Yes
Additional: Stereo
Files Provided: 40
Package Size: ~167MB
Supported Platforms:
Any Operating System
Unity Engine
Unreal Engine
Godot
GameMaker Studio 2
RPG Maker (All Versions)
RPG Paper Maker


The music was produced using FL Studio 20.8 (Producer Edition).
These music packs are picked by the members of my Audio Discord. Feel free to join in the fun and cast a vote for what you'd like to see next! https://discord.gg/JDdecZ3


ALL MUSIC FILES IN THIS PACK ARE ROYALTY FREE (WITH ATTRIBUTION) FOR COMMERCIAL & NON COMMERCIAL PROJECTS.
PLEASE CREDIT THE AUTHOR BELOW IN PROJECTS THIS WORK IS USED IN:-> @JDSherbert

---------------------------------------------------------------
Copyright ©2022 to Joshua "JDSherbert" Herbert.
Do not copy, edit, or redistribute this material without the artist's prior consent.
All rights reserved.
----------------------------------------------------------------
Download
Click download now to get access to the following files:
JDSherbert - Ambiences Music Pack [FREE].rar
166 MB
Comments
Log in with itch.io to leave a comment.
Downloaded, and High quality BGM as always~
Really high quality dark and foreboding ambiance loops for locations across the globe, 10/10 made me want to start working on my shelved adventure/mystery projects again!
Love to hear it bringing out the inspiriation for you! Can't wait to see what you'll do with it!
FAQ
You can use these tracks for games, films, youtube intros, or anything you like.
These tracks are provided in .wav, .mp3, .m4a, and .ogg format and should work in any game engine, video editor or web browser.
You can use these for any project, commercial or non-commercial.
You can use these tracks in any version of any game engine you like.
You MUST credit me/provide attribution if you use these tracks.
Hope the music helps! Many thanks for checking my work out!